Extended Family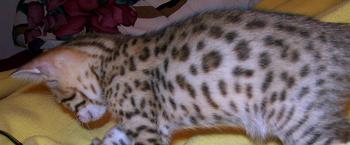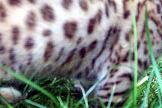 Oakland Hills Virtual Reality (Jelani) of Tansdale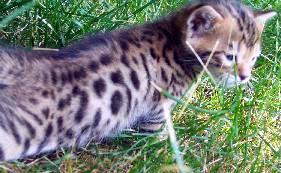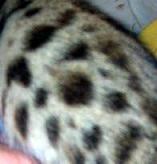 Oakland Hills Grand Illusion (Chika) of Tansdale
I brought two lovely boys from Karen, over to the UK, one for stud and the
other one for a companion. Their names are Jelani and Chika. They are
currently in quarantine, and we visit them regularly. I could not be
happier with them, they have great temperaments, and are gorgeous to look
at. Karen kept in contact with me the whole time they were growing up. We
regularly spoke on the phone, with my husband saying don't forget the phone
bill:) We still talk to each other by email and I send her photos of the
boys. I would highly recommend Karen as a breeder and her kittens.

Suzann Lloyd - UK
Tansdale Turkish Vans & Bengals
__________________________________________________________________________________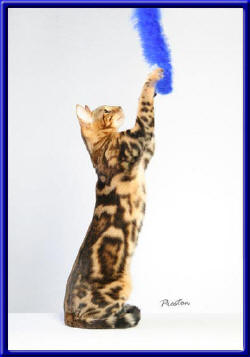 GCH Oakland Hills Sheba of BengalScape - This girl Championed in her first show and then became a Grand Champion in her second show. Go Sheba!!
Sheba danced her way into my heart from almost the first moment she came out of the crate at the airport (the first moment being scared!). Karen described her to me as sweet, but not a lap cat, but that is what she has turned into! She is beautiful, sweet, brave, silly and an absolute character...I just LOVE her! Karen has done a spectacular job with this girl and I would look to her for another cat ANY day!! Thank you for sending Sheba my way.
Audrey Kaiser - BengalScape - Wisconsin
__________________________________________________________________________________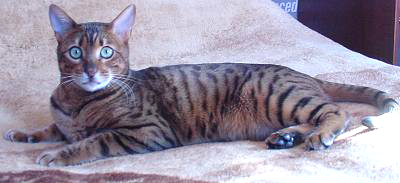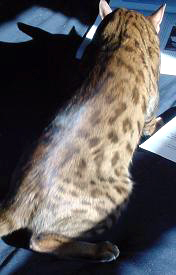 This is Calvin, a beautiful brown spotted boy I bought from Karen a few days
before Christmas in 2002. He turned out to be more then I ever expected.
He is the most active, loving, fun, talkative cat I've ever had or been in
contact with. He loves anything with leopard print and cat nip and he will
sleep with me under my covers or snore away on top of them. He's very
playful and loves to be held and go for rides in the car to Petsmart. I
would recommend Karen to anyone who is looking for a perfect Bengal and
would gladly send pictures of Calvin to anyone who requests them as a
reference. Thanx Karen!!!
Nick Rapin - Michigan
__________________________________________________________________________________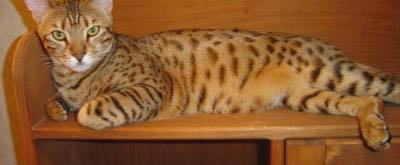 Neko is the funniest and most incredible cat I have ever owned. I think he has a lot of his mother in him he is my greeter at the door too, and nobody gets away from him unless they give him a scratch on the head. It doesn't matter where he is in the house if he hears the door open he is right there. The funny thing about is we can hear him coming and start laughing and whomever is at the door cant understand why we are laughing until they get this cat coming at them. He loves my brother and will get in the window and watch him leave when he goes.
When he plays he will do back and front flips its amazing to watch. Sometimes he will bring his toys to us when he wants to play. Its funny watching him drag this feather and wand through the house for somebody to play with him!
Jennifer Gallager - Michigan
__________________________________________________________________________________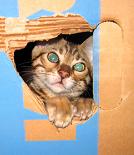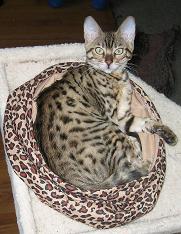 Razi is the most awesome, amazing, beautiful and best kitten I have EVER had! My family and I absolutely adore her. She is just so neat! She has recently been getting in the shower with me and loves the water. I am amazed how fast her fur dries! She and Ziggy are best friends and play ALL the time. Ava, Jaylen and Razi play chase alot. The girls have their "special" strings they pull around behind them and run all over the house, she is right behind them at every turn. She also loves to play chase with me. She actually chases me like in a game of hide and seek. She isn't afraid of anyone that comes to the house and LOVES children. Now that Ava is in preschool we have lots of moms and kids coming over and she is the center of attention. She is so cool around all these little hands just craving to touch her. I've had moms whip out their camera phones and take tons of pictures of her because she is just so unique and beautiful. Karen, Razi is the best snuggle bunny in the world. She curls up on my lap whenever I get a chance to sit down long enough for her to take a good nap and she sleeps right beside me every night. I can get up 20 times during the night (you know my sleep patterns are a bit crazy) and she never moves. She actually sleeps the whole entire night in the bed.
Karen Zomick - North Carolina
__________________________________________________________________________________
Oakland Hills Asia's Legacy of Sundance
Oakland Hills Targa of Sundance
Thank you Pattyn family! We absolutely adore our Oakland Hills kittens.
Lexi's tri-marble daughter, Targa, is our official greeter. Asia's
brown-spotted daughter, Asia Two, is our cat nurturer. Both are experts at
lap-and-petting quality control! Their pictures were beautiful; but, didn't
do justice to their down-soft coats and splendid personalities! These
loving, cuddlesome, playful water lovers are everything we wanted and more.
We cherish these two girls, and are forever grateful to you for giving their
lives such a wonderful start.

Arlene Engels - Indiana
Sundance Cats